Main series
(Sega AM1's universe)
Yes!... these are the kinds of breakthrough results that are possible when experiments are carried out scientifically, without undue mushy sentiment for the human test subjects or other ridiculous ethical qualms...
A creature (生物, Seibutsu?) is a hostile lifeform that is the either the result of DNA experimentation, or living organisms being killed by other creatures and subsequently infected, reanimated and transformed. Creatures serve as enemies and bosses in the mainline House of the Dead video game series.
Creatures have been produced by multiple parties to orchestrate world-threatening incidents, leading to investigations by the AMS. Varying in appearance, species, abilities, and weaponry, creatures pose an immediate threat to humankind.
Because of their scientific origins, creatures are never referred to as zombies in the House of the Dead universe.[1][2]
History
In 1880, an organization was formed by the ancestors of genetic engineer Dr. Curien, financial group head Caleb Goldman, and Thornheart, a mysterious man who survived a disease and owned Scarecrow Manor.[3] Curien, Goldman, and Thornheart would each produce creatures for varying reasons.
1998 Curien Mansion incident
The first creatures were developed in 1998 by Curien, then-research director of the DBR Corporation, at his mansion in 1998. Curien used the BioReactor, a DNA-editing machine which he invented. His project was meant to scientifically control life and death, as well as cure his terminally-ill son Daniel.[4][5] Goldman financially backed his project.[6] Curien's obsession and abandonment by his own research team drove him mad.[7][8][9]
On December 18th, 1998, Curien unleashed his creatures upon research staff in his mansion; the AMS dispatched the threat. Curien himself died at the hands of his "masterpiece", Magician.[10]
2000 and 2003 Goldman incidents
Believing that mankind posed a threat to nature, Goldman used Curien's research to produce newer, more powerful creatures and slaughter human populations with two more incidents: one on February 26th, 2000[11][12], and another 3 years after the AMS responded and Goldman committed suicide.[13] These incidents resulted in the collapse of civilization.
Subsequent incidents
Thornheart sought completing Curien and Goldman's legacy, devising a scheme called "Noah's Ark" using creatures to eradicate mankind. On December 6th, 2006, Thornheart unleashed more creatures upon guests of Scarecrow Manor. The AMS battled the threat, but Thornheart escaped.[14]
In 2019, AMS agents deduced that the EFI Research Facility -- a mysterious building in a desert wasteland -- was the source of the humanity's downfall. Daniel, who was now cured, revealed that his father was to be transformed into a creature named Wheel of Fate. While Wheel of Fate was destroyed, Thornheart took the gene which cured Daniel, hinting at a "true purpose" that Curien did not understand.[15]
Behavior and abilities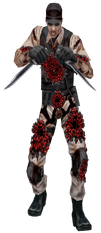 Creatures consist not only of humans, but also other organisms like plants and animals; frogs, bats, birds of prey, and insects are often encountered. Humanoid creatures may be agile and wield weapons. They feast on human flesh, but it is unknown if a creature bite will transform living prey.
However, people killed by creatures have reanimated some time after being attacked. This was shown in 2019, when several members of Thomas Rogan's Private Division were killed and transformed into creatures. One such member, Yukio, was also capable of speech.
Lists of creatures
All creatures are named either in game files, print media, or a combination of the two. Kageo, Devilon, Murrer, and Ebitan are so far the only creatures to appear in every main House of the Dead game.
Development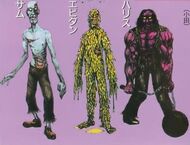 The House of the Dead was conceived as a paranormal-themed game.[1][16] This was scrapped in favor of zombies; developer Sega AM1 wanted the game to be adult and realistic.[17][16] However, director Takashi Oda wanted to differentiate The House of the Dead's enemies from zombies by calling them "creatures" and depicting them as being copied and created, rather than undead.[1] He avoids using the word "zombie" in-universe because he thinks it is unoriginal.[2] Websites, print media, and the fandom still erroneously call the enemies "zombies", "monsters", or other terms.[18]
Throughout the series, visual individuality has been prioritized for the creatures and bosses; they are considered the "main characters".[1] Most of the original House of the Dead's creatures were designed quickly and without rough sketches. The ideas for certain creatures came to Sega AM1 "in an instant" — such as a monster from Star Trek — and the designers were given creative freedom over their appearances. Sega AM1 "definitely" wanted some creatures who were obese and others who wielded chainsaws.[19]
To avoid development errors, each creature has a unique code name; this is sometimes inspired by a creature's appearance or the oddity of having only one Japanese name. Creatures from The House of the Dead who appear in sequels retain their original code names.[16]
The creature designs evolved throughout The House of the Dead's development; some improved, while others were scrapped due to time constraints or content deemed unsuitable for the public. One such creature, Baba, was removed due to her resemblance to an elderly woman. The ball-and-chain-wielding creature Harris was challenging to produce because of the work required to create his weapon's chains. Sega AM1 ultimately felt that Kageo, the mummy-like creature, had an impactful design.[19]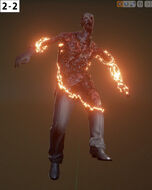 Sega AM1 manually animated the creatures, using motion capture for reference to keep them less "human"-like.[17][19] The creature vocals were recorded by three people in a small room.[19]
The House of the Dead 4 introduced hordes of creatures due to the high performance of the Sega Lindbergh arcade hardware. Takashi Oda wanted the creatures to look "slimy" and "damp", which was achieved by the Lindbergh's graphical prowess.[20]
For House of the Dead: Scarlet Dawn, Sega wanted there to be an "avalanche" of creatures. The models were produced in Unreal Engine 4 by graphics company Agni-Flare Co., Ltd, who used base meshes and recycled animations from prior House of the Dead games to lower production costs. Each model has 15,000 to 30,000 vertices and 62 bones, and a maximum of 200 can appear onscreen at once. Due to censorship, three variations of gore effects, in which gunfire burned creatures and exposed skeletal framework, were scrapped.[21]
References
↑ 1.0 1.1 1.2 1.3 Kori (September 7, 2012). "Website of the Dead's Exclusive Interview with Takashi Oda"

(English)

. The Website of the Dead. Archived from the original on April 19, 2020.
↑ SEGA Interactive R&D#1. (13 September 2018). House of the Dead: Scarlet Dawn. Sega. Level/area: Laboratory. Kate Green: [Explaining a photo of Dr. Curien, Caleb Goldman, and Thornheart to Ryan Taylor] In 1880...the organization their ancestors made was...the beginning of everything.
↑ The House of the Dead Sega Saturn manual, pg. 17
↑ The House of the Dead III - First flashback
↑ Sega Wow Inc. (17 September 2013). The House of the Dead 2. Arcade, Sega Dreamcast, PC, and Xbox. Sega. Level/area: Darkness. Harry Harris: Well, the 1998 Curien case. Guess who was behind it...It was Goldman. He's the head of one of the most eminant financial group [sic] and an expert on the Genome theory.
↑ The House of the Dead III - Second flashback
↑ The House of the Dead III - Third flashback
↑ The House of the Dead III - Fourth flashback
↑ 16.0 16.1 16.2 "代表作:『ザ・ハウス・オブ・ザ・デッド』シリーズ ディレクター"

(Japanese)

pp. 1-2. SEGA Interactive Inc.. Archived from the original on October 10th, 2019.
↑ 17.0 17.1 "The House of the Dead – 1997 Developer Interview"

(English)

. Shmuplations. Archived from the original on January 22, 2016. Retrieved on May 28, 2020.
↑ The House of the Dead III Xbox manual, pg. 38-39
↑ 19.0 19.1 19.2 19.3 Interview: The House of the Dead", Sega Saturn Magazine, issue 23, September 1997, pages 58-63.
↑ SILICONERA STAFF (April 16, 2012). "ゾンビがいっぱい『HOD4』"

(Japanese)

. Sega Voice. Archived from the original on March 20, 2020.
↑ UE4をベースにHoudiniも活用! アーケード人気シリーズ最新作『HOUSE OF THE DEAD ~SCARLET DAWN~』 | 特集 | CGWORLD.jp

(Japanese)

pp. 1-3. CGWORLD.jp (October 10, 2018). Archived from the original on October 2, 2019.