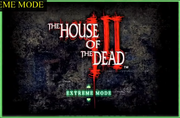 Extreme Mode is a mode that can be selected in The House of the Dead 2 & 3 Return. Besides Time Attack Mode, Extreme Mode is the only alternate option from standard play for The House of the Dead III.
Extreme Mode can only be unlocked once successfully completing the third game. This mode makes enemies stronger, decreases blast radius, and offers the players a melee attack to block enemy fire. Like the shotgun, the melee attack also requires that players reload each time it is implemented.[1]
References
↑ Matt Casamassina (May 12th, 2012). "House of the Dead's Extreme Mode". IGN. "Players can enjoy the exciting feeling of blowing away the enemies by using the shotgun in normal gameplay of House of the Dead III. But on the other hand in the Extreme Mode, the capability of the gun is changed to be similar to the handgun in House of the Dead II. This makes the game a bit more challenging as players have to be more accurate in Extreme Mode. Additionally, by adding the new feature, "Guard Attack" we have tried to add something a little different that hasn't been seen before in the traditional House of the Dead series. ."
Community content is available under
CC-BY-SA
unless otherwise noted.