Who knows how many times your father and I survived by the skin of our teeth?

G to Lisa Rogan.
G is the psuedonym of a male agent of the now-defunct American government organization AMS. He has also been codenamed "Silver Fang".[1]
His identity shrouded in mystery, G has investigated several worldwide incidents involving hostile biologically-engineered creatures, beginning with the 1998 Curien Mansion incident. He retired after the AMS disbanded following the 2003 world collapse, which he believes is connected to his previous assignments.[2]
G is a recurring protagonist in the main House of the Dead video game series. Other media, including the spin-off The House of the Dead: Overkill and the 2003 Uwe Boll film adaptation of the series, have varying depictions of the character.
Biography
Background and role at AMS
Most of G's personal information is unknown, including his nationality, birthdate, and real name.[3][4] Age-wise, he was approximately 35 to 40 years old in 1998[3] (making him around 50 in 2019).[4]
G was an agent of the AMS, an American government agency. His initial personality has been described as "[devoted]"[3] and "cold and calculating".[4]
1998 Curien Mansion incident
On December 20, 1998, G and his partner, top agent Thomas Rogan, investigated disappearances at a mansion owned by geneticist and DBR Corporation research director Dr. Curien; Rogan took interest as his fiancée, Sophie Richards, worked under Curien.[5]
G and Rogan arrived to find dead DBR researchers and hostile biologically-engineered creatures -- released by Curien out of insanity -- on the property. They found Sophie, but she was kidnapped by the bat-like Hangedman and later seemingly killed by the armored Chariot.
After defeating them and the insectoid Hermit, G and Rogan confronted Curien in his underground laboratory. They ultimately defeated Curien's "masterpiece", Magician, who killed Curien out of disobedience.[6]
2000 incident
Two years later, on February 26, 2000, Curien's financier Caleb Goldman masterminded a second investation in a large, unnamed city; several AMS agents investigated. G planned to meet agents James Taylor and Gary Stewart in a library, but was injured by Zeal, an imp-like humanoid. G provided James and Gary a field journal of creature weak points.[7]
Rogan later revealed that G had survived.[8]
2003 incidents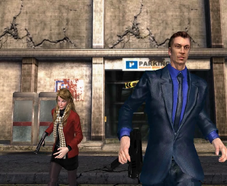 Goldman staged a posthumous 2003 incident, leading to the collapse of civilization. James sacrificed himself to defeat Goldman's final creation, the World.[9] G partnered with rookie agent Kate Green -- now alone and saddened by James' death -- to fight the infestation back to its source. They fought through a contaminated laboratory and defeated a revived Magician. As they left, G told Kate that "the fight" is about to begin.[10]
Sometime later, G visited the Goldman's headquarters where James sacrificed himself. He told James to rest, vowing that the threat would be eliminated.[11]
2019 EFI Research Facility investigation
[12]
Since the events of 2003, G had been investigating the cause, believing it to be connected to his previous assignments.
[4]
 Rogan formed a secret division comprised of
military commandos
and tactical expert
Dan Taylor
. In October 2019, the abandoned
EFI Research Facility
was determined the source of the apocalypse.
[12]
Rogan went missing during a raid of the facility; this prompted investigation by G and Rogan's daughter Lisa on October 31.
[13]
The pair fought inside the facility, defeating Death, a giant club-wielding behemoth; Sun, a large tree-like mutant; and Fool, a massive sloth-like creature. G and Lisa found Rogan, who revealed that he was rescued by Curien's son, Daniel. It was also revealed that Curien had undergone a 19-year resurrection process, intended to be transformed into Wheel of Fate. Lisa and Daniel defeated the creature while G stayed behind to care for Rogan.
As the group left the facility, Rogan expressed his gratitude for G's help. G voiced concern for the future of humanity; Rogan remained optimistic, claiming that they had "done [their] part", and that the future was left to people like Lisa and Daniel.[14]
1991 Bayou City investigation
In 1991, after graduating from the AMS academy, Special Agent G was assigned to investigate a missing persons case in Bayou City, Louisiana linked to crime lord Papa Caesar. G teamed up with Detective Isaac Washington, who swore revenge after Caesar killed his father. They were attacked by mutant undead-like creatures.
G and Isaac stormed Caesar's mansion; Caesar escaped, and the two defeated a disabled scientist-turned mutant, Jasper Guns. They then met Varla Guns, a stripper and Jasper's older sister who also sought revenge against Caesar. They encountered the Screamer in a mutant-infested hospital, carnies Nigel and Sebastian in a carnival, the mantis-like Crawler on a train, and the Lobber within the Louisiana swamps.
The pair eventually tracked Caesar to a maximum security prison, meeting its eccentric warden Clement Darling. They found Varla and Cesar strapped in electric chairs; Clement revealed that he was responsible for the outbreak. He then killed Caesar, thus robbing Isaac of his revenge. The agents defeated a mutated prison inmate Brutus the Ruthless before pursuing Darling into a secret underground laboratory.
Upon confronting Clement, the agents discovered that he had transplanted the brain of his ailing mother into Varla's body. Varla then grew into a towering mutant creature, which G and Isaac defeated. Clement pleaded mercy, "returning to the womb" to atone for all the problems he caused. The pair escaped in a helicopter with Varla's brain in a jar, detonating Clement's facility. They then discovered a mutant piloting the helicopter.
Isla del Morte investigation
G appears along with Rogan at the end of Uwe Boll's 2003 film, questioning Rudy Curien while a team of AMS agents arrive via helicopter to investigate the incident on Isla del Morte. In this adoption, G is depicted as African American and he wears a black business suit with a long trench coat.
Appearance
G's appearance varies among games.
The House of the Dead: Overkill, his youngest appearance, G wears a black formal suit jacket and pants with brown shoes and a white button shirt. He is always depicted wearing purple wraparound sunglasses (switched to aviators in Extended Cut). His hair is short and dark.
In the original House of the Dead, G retains the black formal suit, but his button shirt is now blue and gains a white necktie. His sunglasses are absent.
In The House of the Dead 2, G wears a navy blue formal suit, yellow necktie, and a sky blue button shirt.
In The House of the Dead 4: Special, G wears a black formal suit and purple button shirt.
In The House of the Dead III and the fourth ending of The House of the Dead 4, G has gray hair. His formal suit jacket is replaced with a gray formal vest with matching pants, black shoes, a light blue button shirt, and a yellow necktie.
Trivia
G's pistol in The House of the Dead is much quieter than Rogan's, despite not having any visible suppressors or using a different cartridge. (It is possible that the sound used is from Virtua Cop, Sega's spin-off game made in 1994.)
Since his debut appearance in The House of the Dead, G has made both playable and unplayable further appearances and in all following main House of the Dead games except House of the Dead: Scarlet Dawn.
In The House of the Dead: Overkill, it is revealed that G listens to country music.
His attire is slightly altered in The House of the Dead: Overkill Extended Cut. In the original Overkill, he wears wrap-around sunglasses, while in Extended Cut he wears a pair of aviators with green tinted lens.
G's appearance in Overkill is derived from actor Keanu Reeves as he appears in the 1991 movie Point Break.[15] They officially confirmed the news on Twitter on October 3rd, with platforms and release dates yet to be included.[16]
In The House of the Dead 2, the filename for G's character is Hou, a Japanese name that translates to 'country'.
Gallery
Concept Art
Official Art
Screenshots
Concept Art
Official Art
Data
Screenshots
Screenshots
Official Art
Screenshots
Other Media
References
↑ The House of the Dead Sega Saturn manual, pg. 3
↑ Sega Wow Inc. (17 September 2013). The House of the Dead 2. Arcade, Sega Dreamcast, PC, and Xbox. Sega. Level/area: Original Sin (ending). Thomas Rogan: G and Harry are alright. Let's leave the rest to them. On we go, to our next battle.
↑ Sega Wow Inc. (30 December 2005). The House of the Dead 4. Arcade, PlayStation 3. Sega. Level/area: G ending. G: James, it's not over yet. We'll fight this back to the source. It's time for you to rest now, James.
↑ This date is based on The House Of The Dead III Xbox version manual.
↑ Mark Brown. "The Making Of… The House of the Dead: Overkill". Gramposolita.pl. "The House of the Dead: Remake i The House of the Dead 2: Remake będą mieć nową, dostosowaną do współczesnych standardów grafikę oraz lekko zmodyfikowaną rozgrywkę, ale w pełni zachowają oryginalny scenariusz. Spółka zapowiedziała, że materiały z pierwszej z gier zostaną zaprezentowane w najbliższych miesiącach."
↑ Mark Brown (February 12, 2009). "The Making of...The House of the Dead: Overkill". Britishgaming.com. Archived from the original on March 22, 2020. "...Washington is cosmetically based on Common", an American rapper and actor, known for over-the-top action flicks such as Wanted and Smoking Aces, while G is a mish-mash of straight up, enigmatic and professional agents; "Keanu Reaves from Point Break" is one of his influences. Varla Guns is based on Parisian model Vikki Blows and "Papa Caesar is Burt Reynolds."
Community content is available under
CC-BY-SA
unless otherwise noted.