It is said that this weapon seeks those destined to be Vampire Hunters. In ancient times, a holy sword was the only effective weapon against vampires. Today, however, a gun blessed with holy power is the weapon of choice for slaying demonic incarnations.

Hunter's Files entry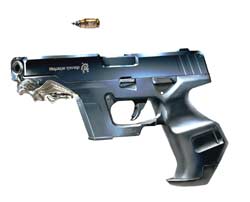 The Handgun is a weapon known to be wielded by vampire hunters Michel and Albert. Blessed by holy power, this weapon was specifically designed to destroy evil beings and not to harm the innocent.[1][excerpt 1] It appears exclusively in the 2000 House of the Dead spiritual successor Vampire Night.
Sources
Excerpts
↑ Excerpt from Vampire Night Perfect Guide, p.5:
"ヴァンパイアハンターの資質を持つモノと出会う運命にあり、彼等にのみ扱うことが出来ると伝えられている。その力は、恐怖、怒り、憎しみ、悲しみを打ち砕き、全てを無に還す。その昔、 ヴァンパイアに対抗しうる武器は祝福された剣であったが、現在ではヴァンパイアを葬るには聖なる力を与えられし銃が主となった。"
References
↑ Vampire Night Perfect Guide, pg. 5
Community content is available under
CC-BY-SA
unless otherwise noted.