Main series
(Sega AM1's universe)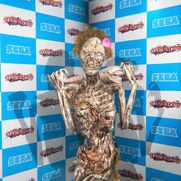 Hiiro Sumomo (緋色すもも, Hiiro sumomo?), or Momo for short,[1] was a virtual YouTuber planned and produced by Darkness Co., Ltd[2] for House of the Dead: Scarlet Dawn's marketing campaign. The character was a female version of Kageo, a recurring creature in the main House of the Dead video game series.
From 2018 to 2020, Sumomo shared Scarlet Dawn-related news, artwork, and videos on Twitter and YouTube. Upon launch, her YouTube channel amassed over 27,000 subscribers in the span of three weeks,[1] and overall had 1.4 million views.[2][3] She also appeared on print-out masks, the booklet for the album HOUSE OF THE DEAD ~SCARLET DAWN~ ORIGINAL SOUND TRACKS, and other promotional materials and merchandise.
Sumomo's social media accounts went defunct on September 9th, 2020, nine days before the two-year anniversary of her debut.[4] Her Twitter account now functions as an archive for older posts, while her YouTube channel was deleted. Many of her videos have been reuploaded to Internet Archive and the Chinese video sharing site Bilibili.
Gallery
References
↑ 1.0 1.1 Ruide, Koh (October 7, 2018). "Newest virtual YouTuber is actually a rotting zombie with a cute voice, has a slug for a pet"

(English)

. SoraNews24 -Japan News-. Archived from the original on April 29, 2020. "Hiiro Sumomo, translated as 'scarlet plum' in Japanese, is an energetic and cheerful cadaver whose dream is to become the number one virtual YouTuber in the world. Called Momo by her fans, the rising idol has been chosen by video game developer Sega to be the official ambassador for horror arcade shooting game, House of the Dead: Scarlet Dawn."
↑ 緋色すもも[@sumomo_hiiro] (September 8, 2020). 緋色すもも on Twitter: "緋色すももより皆さまへ たいせつなお知らせ #緋色すもも "

(Japanese)

. Twitter. Archived from the original on September 8. 2020. Retrieved on September 8, 2020.
External links
緋色すもも - YouTube channel (archived)
緋色すもも (@sumomo_hiiro) - Twitter