Main series
(Sega AM1's universe)
Type E-1, named Rubin (ルービン, Rūbin?), is a short-sized, male humanoid creature who wields claws. He is an enemy in The House of the Dead, its 2021 remake, and House of the Dead: Scarlet Dawn.
Lacking projectiles, Rubin instead rolls at his target to attack. He is often paired with Drake, a similar creature.
Appearance
Rubin wears a light gray suit and hat, as well as a black tie. His face is muscular, his teeth are visible, and his eye sockets are empty.
In the PC and Sega Saturn ports of The House of the Dead, Rubin shows fewer detailed signs of decay. His head is covered in blood, rendering his facial features indistinguishable.
Gameplay
As with Drake, Rubin is a short, nimble creature who can be a difficult target to hit. Unlike his partner, Rubin has no projectiles to throw; instead, his uses short-range claws to attack. He either drops down from the air to attack, or rolls toward players for a lunging bite.
Rubin can take many body shots before dying, and can even survive headless at times. Shooting him during his attacks will cause Rubin to fall backwards, buying players extra time to inflict damage.
Trivia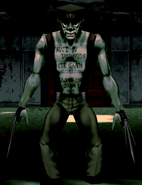 There is an unused Rubin-like creature in the original House of the Dead with the filename "lubin". He is shirtless, wears a cap, and sports what appears to be Greek lettering on his body.
Gallery
Official artwork