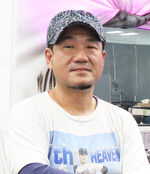 Takashi Oda (小田 隆志, Oda Takashi?) is the creative director of the House of the Dead series, as well as the current planning manager for Sega AM1.
Biography
Childhood and employment at Sega
Takashi Oda was born in Fukuoka, Japan in 1967. Throughout primary and secondary school, he played arcade games like Circus, Space Invaders, Galaxian, and Pac-Man in game centers and candy stores. He initially studied architecture and interior design in college; his friend, a graduate and Sega employee, inspired him to pursue a career at Sega instead. Oda joined Sega in 1992. He helped develop Astronomicon, an attraction for the Sega-affiliated theme park Joypolis in Osaka, Japan, before directing the arcade games Puzzle & Action: Treasure Hunt and Motor Raid.[1]
The House of the Dead project
As part of Sega AM1, Oda led development on a light gun game after sister group Sega AM2 released Virtua Cop in 1994.[2] AM1 decided upon a horror theme to distinguish themselves, choosing zombies as the main enemies for realism.[2] Oda stated that the team "[knew] they didn't want children playing this game".[3] He was influenced by the 1996 crime thriller film Seven[2][4] and the manga Black Jack, the latter of which had morally gray characters and storylines.
The project, ultimately named The House of the Dead, was released in 1996 to critical and commercial success.
Further House of the Dead work
Oda would direct four sequels to the game: The House of the Dead 2 in 1998; The House of the Dead III in 2002; The House of the Dead 4 in 2005; and House of the Dead: Scarlet Dawn in 2018. He was also involved with a cancelled House of the Dead 5 project in 2012, which he has declined to revive.[5]
Following Scarlet Dawn's release, Oda expressed desire to produce three more House of the Dead games and a House of the Dead first-person shooter if there is enough demand.[5]
Gallery
References
Community content is available under
CC-BY-SA
unless otherwise noted.