Main series
(Sega AM1's universe)

"A brain is a terrible thing to waste."
This article needs references and references re-formatted to suit The Wiki of the Dead's bibliography standards.

The House of the Dead: Nightmare (死者の家:悪夢, Shisha no ie: Akumu?) is a horror-themed mobile game developed by Sega. It is an adaptation of the 1996 rail shooter The House of the Dead with several changes to the story and gameplay. The game's official release date remains unknown.
Plot
Main article: The House of the Dead (1996 video game)#Plot
Nightmare features much of the same storyline as the original game, with AMS agent Thomas Rogan investigating the Curien Mansion for disappearances of DBR Corporation research staff, including his fiancée Sophie Richards.
However, there are several deviations from the story. The opening sequence involves Rogan having a nightmare, only to be awoken by a phone call ordering him to investigate the mansion. Rogan's partner G is absent from gameplay, and the enemies are erroneously called "zombies" instead of creatures.
Characters
Bosses
Gameplay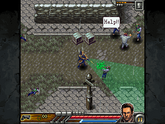 Nightmare deviates from the original 1996 game by being set from a top-down perspective. The player, as Thomas Rogan, must navigate 4 stages. Each stage tasks the player with fighting creatures, rescuing DBR researchers, and ultimately defeating a boss.
Rogan moves through the world on a predefined path; the player can only control his aim, with Rogan firing automatically whenever an enemy or destructible object is in his line of fire (represented by a transparent cone appearing in front of him). Players can purchase more powerful weapons from a shop.
Like the original game, there are three possible endings -- normal, bad, and good -- that display depending on the player's performance.
Reception
Zach Murphy of QueueTimes gave the game a 4/5, praising its visuals and "skill-based [and] reactive" gameplay, which he saw as an interesting deviation from The House of the Dead's first-person perspective. However, he criticized elements that he felt were recycled from the Java version of Sega's The Club.[1]
Gallery
Screenshots
Videos
References