Main series
(Sega AM1's universe)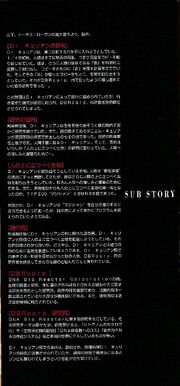 The House of the Dead Sub-Story (THE HOUSE OF THE DEADサブストーリー, Za hausu obu za deddo sabusutōrī?) is a piece of lore located in the introduction of The House of the Dead Official Guide. It was first roughly translated into English in early 2020,[1] before receiving an updated translation months later of the same year.[2]
The sub-story details Dr. Curien's background, the purpose of his research, and his gradual descent into madness, thus leading to the events of the 1996 rail shooting game The House of the Dead.
Story/Translation
Below is an excerpt from the notes of Agent Thomas Rogan.[3][excerpt 1]
Dr. Curien's Case Study
Dr. Curien was attempting to obtain the power to rival God. A quarter-century ago, mankind had already begun to reproduce, or; make copies of this matter. He, moreover, planned to create life in copies of itself by scientifically mutating and creating organisms, which is forbidden. He sought to produce creatures which contained that very life. It was in the DBR Corp. that he madly pressed forward with his research...
He pursued the idea in secret, but his research was made known by the government, and his position as the director of the DBR Corp. was suddenly dismissed.[3][excerpt 2]
Purpose of research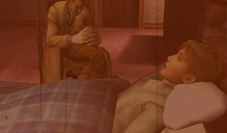 Even after dismissal, Dr. Curien continued to develop creatures at his mansion, until his son, Daniel Curien, died of an unexplained illness. With the removal of his position as director and the passing of his son, Dr. Curien bore distrust for human beings. It was then the objective of his research changed from creating lifeforms to imitate human life to "producing creatures that stood above man", out of hatred and revenge...[3][excerpt 3]
Creatures meant to stand above humans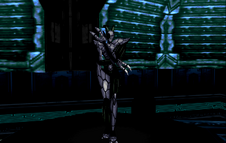 Humans had always resided at the top of the food chain, but he looked to produce creatures to take them over, doubtless out of hate and retribution. He called the first of these creatures, TYPE 00[sic] "The Magician" , despite its being incomplete. Although created to follow the orders of the Doctor, its programming was secretly altered by a mysterious man.[3][excerpt 4]
Mysterious man
A shadowy individual who appeared before Dr. Curien after his forced resignation. Like the Doctor, he seems to also be researching into creating higher forms of life. I do not exactly know the purpose of this man's work, but apparently, it seems that this man's creatures are being created for another purpose outside merely standing above humans. This mysterious person, who never appeared in the incident at the Curien residence, is rumored to have been the one who kidnapped researchers for Curien's work.[3][excerpt 5]
DBR Corporation
The DNA Bio-Reactor Corporation is an institute for biological research, mainly for genetics and DNA reconstruction. It is a governmental research institute, and although its activities are partially disclosed, many of them are classified. In addition, the research process is being reported to government agencies.[3][excerpt 6]
DBR Corp. Research
This mainly focuses on the DNA BioReactor. There are various branches of research concerned, but for example, there have been interventions in unknown fields such as "cataloging of human genomes", "proof of biological determinism", "intervention of the DNA somatic cell", and "system of existence of acquired RNA". There are many others. The incident at Dr. Curien's residence was the kidnapping and forced work of employees to further his own research; the ultimate tragedy being many of them attacked by the Doctor's creations when he was driven to madness.[3][excerpt 7]
Trivia
While the "mysterious man" is unnamed, he is likely either Caleb Goldman or Thornheart, two other series antagonists who are connected to Dr. Curien and have different reasons for producing creatures.
This marks the first time that Daniel Curien is mentioned by name, predating his appearance in The House of the Dead III by four years (The House of the Dead Official Guide was published in 1998, while III was released in 2002).
Sources
Excerpts
References