Welcome to my profile, my AMS friends.
About me
Hello! I'm an admin and the current bureaucrat of The Wiki of the Dead.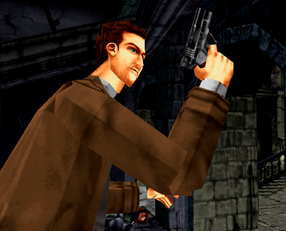 The House of the Dead was influential on my youth, helping me discover arcades. It has since become one of my all-time video game franchises. I love the gameplay, lore, music, and enemy designs.
I replay the games often in order to get high scores or beat them without dying. Currently, I have performed 1CC (1 credit continue) runs on the arcade version of every mainline House of the Dead game except The House of the Dead 2. I value the franchise and its community.
Outside of that, I'm a college student and writer, and am also pursuing a bachelor's degree in Computer Science. I'd love to make a House of the Dead-style rail shooter, or give feedback/suggestions for any future House of the Dead titles.
As of January 14th, 2021, I have made over 13,000 edits and have contributed at least once every day for a year straight. I'm personally satisfied with the wiki's current state, but with remakes of The House of the Dead and The House of the Dead 2, I'm certain that there will be more work needed.
Hours of Activity
To dedicate more time to schoolwork, my hours on the wiki will be more limited. <schedule to be added>

Best ways to contact me on Discord (either via DMs on the House of the Dead Discord linked here), or leaving a message on my talk page.

My House of the Dead Collection
Arcade hardware
Console games
DVDs
Guidebooks
Favorite...
Games
Here's my personal ranking of the main House of the Dead series:
Characters
Creatures
Bosses
High scores
To-do
Important links to check later
Sandbox