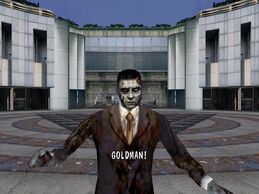 This 'has anyone noticd this?' is referring to the bad endings of THOTDs 1 and 2. If you maximise pictures of the zombified sophie and goldman (v1) you will find that even though most people think that they are primitive and undetailed, (if you look closely) they have hidden features. For example: in THOTD1, Sophie Richards  looks like she has a serious virus. (pale and bags under eyes) And Goldman (in a small pic of the bad ending) looks not very detailed but (when looked at closely) you can kind of see that his suit is broken, he has lost his glasses and he has white zombified eyes. Here are the photos maximised to make it look more detailed.
(the goldman photo has been somewhat deleted from the website)
more 'has anypne noticed this' soon...
Community content is available under
CC-BY-SA
unless otherwise noted.