Multiple universes
(Main series and Spin-offs)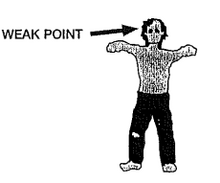 His tongue was his weakness.
A weak point is an area of an enemy or boss's body that is vulnerable to damage. The term has been used in the main House of the Dead video game series, the spiritual successor Vampire Night, and the spin-off The House of the Dead: Overkill.
Identification
Each game in the House of the Dead series identifies boss weak points differently:
The first game depicts boss weak points on research blueprints. The sequel shows them in a field journal from the wounded AMS agent G. Before each boss, the pages of the journal are seen flipping to the blueprints of the boss encountered.
A PDA developed by the AMS is used in III, 4, 4 Special, and Scarlet Dawn. The PDA contains a camera/scanner that photographs/scans a boss and digitally analyzes and identifies its weak point by beeps.
In The House of the Dead: Overkill, blueprints for the bosses' weak points are shown in the loading screens before the boss fight.
Vampire Night presents small 3D models of the bosses inside a revolving cube, with the weak point highlighted in red.
Boss weak points (By game)
Trivia
References